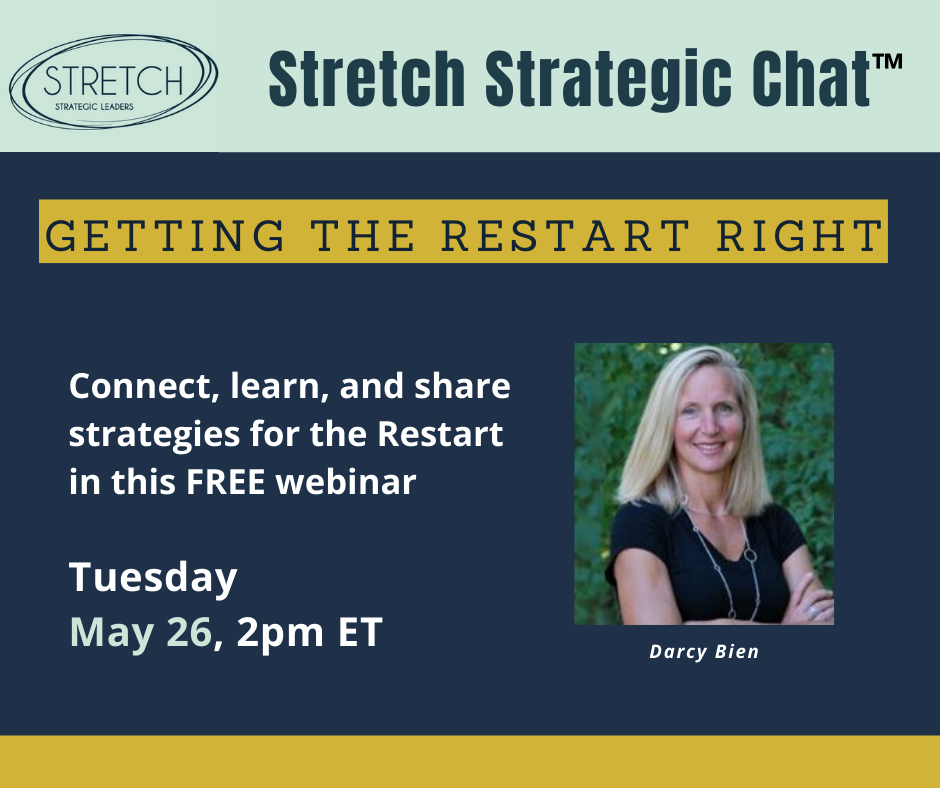 Stretch Strategic Chat

 Tuesday, May 26, 2020

  2:00 – 3:00 pm ET

Connect, learn and share strategies for the Restart. Discuss key strategic concepts and valuable tools to review your key assumptions, update your strategy and reset your goals.
What Assumptions have changed and how to increase the "value of adaptability"

Brainstorm Possibilities / Opportunity Assessments with lots of small plans and test

Resetting your 2020 strategy and Goals to end the year strong

Any other topics/needs you bring to the table
  Facilitator:  Darcy Bien
Stretch Strategic Chat

 Tuesday, June 16, 2020

   2:00 – 3:00 pm ET

Achieve your growth strategies with RUN IMPROVE GROW:
  Confidence to focus on Grow by trusting your fearless frontline to own the running of your business (Are you doing the jobs of others because you lack confidence?).
 Spark your top performers to Achieve the right teams' buy-in for change (stop wasting time attempting to appease those who'll never change while you frustrate your top performers).
  Create a sustainable improvement culture.
 Create a positive culture who embrace measurements (There's a better standard than holding people accountable, removing the fear of measurements.).
     Facilitator:  Ray Attiyah
Strategy in Motion Learning Forum

 Will be rescheduled for future date due to COVID19.

 8:30 a.m. – 10:30 a.m.
 Office Key, Hyde Park
Outstanding companies can do everything right and still lose their market leadership—or worse, disappear altogether. Focusing on "disruptive technology," companies miss out on new waves of innovation. Using the lessons of successes and failures from leading companies, this book, The Innovator's Dilemma, presents a set of rules for capitalizing on disruptive innovation.
Facilitators:  Eisha Armstrong
Cost: $49