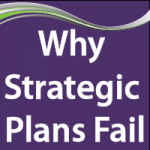 I am sure many of you have updated their strategic plan for this year or are in the process…  right??  Remember, good plans need to be assessed and updated as internal and external factors change.
As you think about your strategic planning "process" this year, I wanted to share what I have experienced as the top 3 reasons plans fail.  These and more can be found in Aileron's Approach to Strategic Planning article.
 Your current business is not in control. It is very difficult to successfully plan for the future when you are "overwhelmed" with day-to-day fire-fighting activities.  Many first time planners use the first year to address and solve critical operational issues. Then they can focus on key long-term changes.
Organizations, especially smaller ones, have "non-performers" in key roles.  One of the "most difficult" and "most important" decisions to make is to identify the people who were critical to get you to today BUT are not capable of getting you to tomorrow.  Without the right people and right skill levels and experience you are stuck in today and cannot successfully plan your future!
Plans with too many goals, too many objectives, and not enough resources. The main objective of a good strategic planning process is "Resource Allocation." What do you want to do and do you have the resources (time, people, and money) to make it happen?  Remember the Rule of Three ….  No more than three strategic priorities and less than three goals and objectives for each!  Plans work because they are simple, focused and fully supported!
As you seek to improve your strategic planning processes in 2013, remember these three failures and implement measures into your process to ensure you do not commit them! Our consultants are available for a free one-hour consultation to discuss your planning needs.